Headliner Comedians Coming Soon
Scroll down for tickets!
Laugh in the Park comedy festival Returns to Queens Park in the heart of Glasgow's Southside on Saturday 11th June 2022. Our venue is the Queens Park Arena otherwise known locally as "The Bandstand" – a unique outdoor music and performance venue.
Last year's event sold out in just a few hours. This year Tickets go on sale Friday 6th May from www.laughinthepark.com (skiddle). They are expected to sell out fast, but you can pre- register for "Remind Me" for the absolute best chance to get a ticket.
Laugh In the park, plans to cement ourselves as permanent fixture in the calendar and as a celebration of the wealth of talent in Scottish comedy has, life itself and the beautiful surroundings right on our doorstep.
Our line-up consists of seven of the absolute best performers to be found in Scotland and we promise you two and half hours of award winning, side splitting comedy (minus a couple of intervals). We cannot wait to show you whom will be performing. We will release the line- up on Thursday 5th May from www.laughinthepark.com 24 hours ahead of the pre-sale.
The show runs from 19.30 – 22.00 (Last entry 19.00). The site will be fully kitted i.e., toilets, licensed bar, street food and is fully accessible for wheel chair users.
𝘛𝘪𝘤𝘬𝘦𝘵𝘴 𝘸𝘪𝘭𝘭 𝘣𝘦 𝘴𝘰𝘭𝘥 𝘪𝘯 𝘭𝘪𝘮𝘪𝘵𝘦𝘥 𝘢𝘭𝘭𝘰𝘤𝘢𝘵𝘪𝘰𝘯𝘴 𝘰𝘧 𝘵𝘸𝘰, 𝘧𝘰𝘶𝘳, 𝘴𝘪𝘹 𝘢𝘯𝘥 𝘦𝘪𝘨𝘩𝘵 𝘱𝘦𝘳𝘴𝘰𝘯𝘴.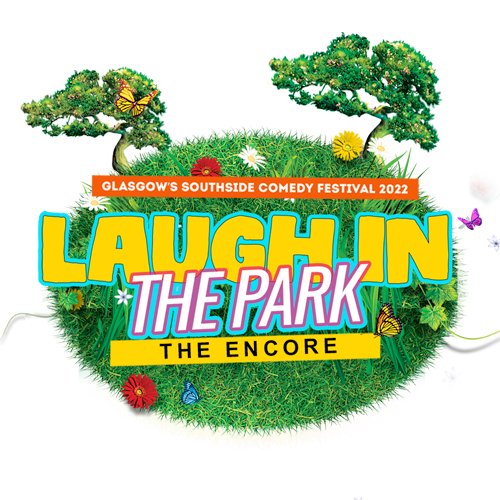 Laugh in the Park is a new mini festival which we plan to bring to the Southside annually as a celebration of comedy, life and the beautiful surroundings of Queens Park.
After the last 16 months we have all had I think we all need a good laugh, right?